10 Best White Label Dashboard Software
White label dashboard software is an easy solution for providing clients white label reports with a tailored dashboard. This software comes in handy for professional marketing agencies who provide services to many clients.
White-label analytics dashboards can help to scale a business because they save time. How? A tailored white-label reporting dashboard contains an overview of the project activities with data visualization.
Whenever a business focuses on its SEO, social media, or PPC campaign, it is essential to track KPI. To track KPI and get an overview of any project's progress, white-label software and white-label reports are the ultimate solution.
Today, we will discuss the market's best white-label dashboard software that can change the face of your brand of reporting.
Must-Have Features For The Best White Label Dashboard Software
The purpose of a white-label marketing dashboard is to facilitate a project's
Activities
Workflow process
Overall performance
To achieve these purposes, white label dashboard software must have the following features
Dashboard Customization: The dashboard software must be able to customize the dashboard according to the client's brand name requirements or choice of data representation.
Data Visualization: Data visualization is a must-have feature for white-label software. This visualization process should be clean, understandable, easy to use, and user-friendly. So, the dashboard's data must have graphs, charts, insights, tables, etc., to help the user navigate through the dashboard easily.
Data Integration: The software must have an integration facility with other standard data sources like spreadsheets, databases, or API integration to allow the user to gather any data conveniently.
Real-Time Data Updates: To give administrators current information, the dashboard must be able to give users real-time data.
User Roles: A project requires multiple people's collaboration, so there should be a feature to add users and set their roles and specific permissions. This will ensure that only authorized users can access specific important data.
Security: Security is a must-have feature for dashboard software. It must have well-structured data security for protecting privacy with certain protection features such as SSL encryption, security management protocols, data backup feature, etc.
What are the Best White Label Dashboard Software?
White label and reporting tools can be influential for brands. Today, it's essential to track KPIs in real time. The use of white-label features can add a unique touch to a dashboard. This makes it more branded and personalized. If you're an agency owner and need agency branding, incorporating white-label features can help improve customer service and establish brand consistency.
Finding the right white-label dashboard software can be challenging, so we've researched and evaluated 10 top-notch white-label dashboard software tools to simplify the process. With them, you can help achieve your branding goals quickly and cost-effectively. By using these top white labeling top tools, you'll be able to enhance customer service and establish a differentiated brand identity.
1. DashThis
DashThis made it easy to elevate your dashboard with a bunch of robust features. DashThis has all the dashboard customization power to automate your process efficiently. It can connect your business with the 34 most commonly used digital marketing tools.
You can easily integrate your business with Google Analytics, Google Ads, HubSpot, and even with Tiktok. The best part is the tool doesn't limit these features to higher plans. So, you'll get all of these essential features with every plan your purchase
Highlights
DashThis is a 100% white-label dashboard reporting software.
Data from any number of integrations can be included in any dashboard you design.
You'll have access to many templates to create your report. You can also make your own template to use later.
Native integrations for Facebook, Google Ads, Ahrefs, etc., and other leading popular marketing and social media platforms.
If you have proprietary data, you can use its CSV import system, that'll update itself automatically as a custom data source.
You can add unlimited persons or clients to your projects.
You can repeatedly have unlimited sources of data from various marketing platforms.
You can use a custom theme and a custom domain for your dashboard.
Unlimited access to all data integrations and sources with all of their plans.
Pricing
 DashThis has the following monthly pricing plans:
| | | | | | | |
| --- | --- | --- | --- | --- | --- | --- |
| Plan | Dashboards | White Label & Customization | Customer Service | Dashboard Builder | Monthly Price | Yearly Price |
| Individual | 3 | Limited | Limited | Unlimited | $39 | $33 |
| Professional | 10 | Unlimited | Limited | Unlimited | $129 | $109 |
| Business | 25 | Unlimited | Unlimited | Unlimited | $249 | $209 |
| Standard | 50 | Unlimited | Unlimited | Unlimited | $399 | $339 |
2. Klipfolio
Klipfolio is a super easy no-code white-label dashboard software. It has a great software interface to visualize data from various essential digital marketing sources. It has 100+ data integration connectors like database connection, spreadsheet connection, file connection, etc.
Highlights
Track data by easily creating instant metrics to calculate your brand's performance.
Pre-built data connector integration with SQL, JSON files, spreadsheets, etc.
A data transformation tool to access data with metric updates.
Explore, share, and turn your project data into insights.
Klipfolio PowerMetrics has hundreds of pre-built metrics for your dashboard.
Pricing
| | | | | | | |
| --- | --- | --- | --- | --- | --- | --- |
| Plan | Dashboards | User Access | Data Service | Data Refresh | Monthly Price | Yearly Price |
| Free | Unlimited | 2 | 3 | 4 Hour | $0 | $0 |
| Plus | Unlimited | 4 | 4 | 1 Hour | $139 | $99 |
| Pro | Unlimited | 8 | 8 | 15 minutes | $299 | $229 |
| Business | Unlimited | Flexible | Flexible | 15 minutes | $799 | $799 |
3. Domo
Domo is an advanced data visualization and intelligent business management dashboard software. It can help any business to multiply its growth impact with data inspection and collaboration.
Domo provides a data experience platform with its amazing business apps, interactive dashboards, smart analytics, and self-service reporting. It has pre-loaded 150 white-label features and data types. They are essential for real-time data access and making these data insights.
Highlights
You can create a low-code business app to streamline your decision-making.
You can use advanced report creation and management features with low technical knowledge.
You can also create a pro code business app with low code features to automate your process and insights.
The BI and analytics allow you to have an intuitive reporting feature that helps with viewing custom data.
Pricing
A free trial is available with Domo. Its cost is determined by many factors based on how you use the platform, including data storage and the total number of users' data refresh rates. For businesses in various phases of digital transformation, they provide packages with certain key features.
4. Databox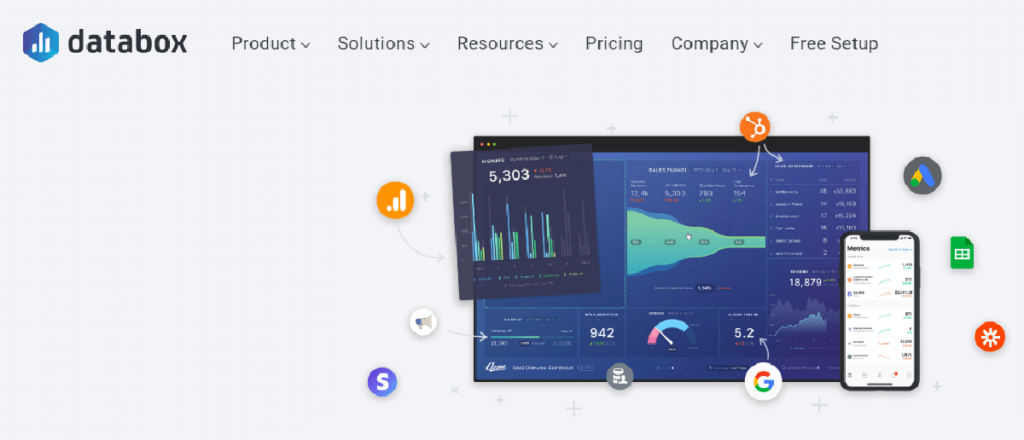 Databox streamlines dozens of marketing tools into one centralized, easy-to-use interface. It's an amazing business solution platform where you can find data insights, track KPIs, and get a dashboard that updates in real time.
Databox allows your business to benchmark your company's data insights with your competitors easily. So, you can find competitive strategies, apply a growth plan for high-level opportunities and get one step ahead of everyone.
Highlights
You can use your digital marketing tools data to track thousands of metrics.
You can get full access to customize your dashboards conveniently to reflect your own branding. You can host each dashboard on your own domain and even have your own branded web app.
It has 100+ native marketing integrations, including Zapier, Google Sheets, Integromat, etc.
You can get an amazing report scorecard where you can get updates monthly, weekly, or even daily.
Advanced report creation and management features with low technical knowledge.
Pricing
Databox offers a free, lifelong account with the following:
60+ Databox Integrations
3 Data Source Connections
All standard features.
| | | | | | | |
| --- | --- | --- | --- | --- | --- | --- |
| Plan | Dashboards | User Access | Advanced Reporting | Data Refresh | Monthly Price | Yearly Price |
| Starter | 4 | 5 | No | Daily | $0 | $0 |
| Professional | 9 | 25 | No | Hourly | $139 | $99 |
| Performer | Unlimited | Unlimited | Yes | Hourly | $299 | $229 |
The above pricing model is the default one. You can manually increase the entities and buy a custom package.
5. Whatagraph
Whatagraph is an amazing all-in-one data integration, visualization, and sharing platform. You also get various unique and intuitive tools to enrich white-label dashboards for your clients. Whatagraph is built for data-driven marketing professionals who want a hassle-free white-label reporting tool for their clients.
You can easily automate all your marketing data and report with it because it's a pure white-label solution in one place. It has a wide range of pre-made templates where you can start building your customized dashboards and reports. You don't have to do anything from scratch.
Highlights
It has built-in gallery templates as a smart builder for creating custom reports.
You can integrate 40+ native data integration features.
You can schedule and automate your report for as per your clients' expectations.
You can blend all your data in this cross-channel reporting platform with custom formulas.
Pricing
Whatagraph offers a 7-day free trial. They also provide an easy and hassle-free 30-day money-back guarantee for all their plans.
| | | | | | |
| --- | --- | --- | --- | --- | --- |
| Plan | Data Source | User Access | Integration | Templates | Monthly Price (Billed Yearly) |
| Professional | 25 | 5 | Yes | Yes | $223 |
| Premium | 50 | 10 | Yes | Yes | $335 |
| Custom | 100+ | Unlimited | Yes | Yes | Custom Price |
They don't provide any single monthly package, so all of their packages are billed yearly, and for the custom package, you can be billed quarterly.
6. GoodData
GoodData is an easy-to-use analytics and BI platform. It's specifically designed for engineers who love to build custom data applications. It has a flexible architecture, so you can deploy any cloud database in real time. You can easily build analytics-based cloud applications with custom data.
Its API integration features give an edge to interactive data visualizations. You can create any workflow or integrate data tools, and you'll be able to build data analytics in your applications.
Highlights
Scalable analytics allow you to design interactive data visualization with API features.
You'll have full access to white-label everything, including email, logo, URL, texts, etc.
You can embed any data analytics into all of your created applications.
You can create and deploy your product in the cloud in real time.
Pricing
GoodData provides a user-friendly 30-day free trial. GoodData currently has 2 plans: professional and enterprise, with a 30-day free trial. The professional plan is $1000 per month, which includes workspaces, a platform fee, and unlimited data and user roles.
The enterprise plan is a custom pricing plan which contains high-level security compliance, including unlimited data access and user roles.
7. RankRanger
RankRanger is a trusted company owned by SimilarWeb. It is an SEO-focused white-label software. It has all the standard SEO tools like keyword research, performance monitoring, and competitor analysis.
You can access its complete white-label dashboard for making custom reports for your clients. Like the other software, it also has pre-made templates to start with. Also, you can send schedule automatic PDF reports.
Special Feature:
An SEO-focused white-label dashboard platform with SEO tools to perform audits.
Highlights
All-in-one white label SEO dashboard tools collection software.
Custom keyword rank tracking.
Ability to monitoring mobile ranking information.
Advanced local keyword rank tracking feature.
Have access to full creative control of making the white-label report.
Custom graph and widgets.
Automatic report schedule and send feature.
Create custom data specifications.
Pre-made templates to start making reports.
Pricing
RankRanger provides a hassle-free 7 days trial.
| | | | | | |
| --- | --- | --- | --- | --- | --- |
| Plan | Dashboards | User Access | Keywords | Custom Domain | Monthly Price |
| Light | 15 | 3 | 500 | No | $79 |
| Standard | 30 | 1 | 1000 | No | $149 |
| Pro | 100+ | 5 | 5000+ | No | $699 |
| Premium | 25+ | 10 | 25,000+ | Yes | $2700 |
8. Yellowfin BI
YellowFin BI is a tailored enterprise-level intelligent data discovery solution-providing platform. You can professionally visualize any data and automate custom-made business reports. Its amazing drag-and-drop report-making feature is amazing because you can do almost anything without any coding knowledge.
Another great feature of YelloFin BI is that you can create custom preset alerts. This way, you can get notified if your data reaches any level determined by you.
Special Feature:
AI-driven features that give you the freedom of report making with drag and drop method.
Highlights:
It has a data storytelling visualization feature.
You get set up automated analytics for complex data.
Simple and easy-to-use action-based dashboards.
Features such as user roles let you collaborate easily.
Pricing:
Yellowfin BI offers an easy-to-use 30-day free trial with flexible pricing assurance. They don't mention their pricing on their website. You can get their demo and also try for a free 30-day trial.
9. ClicData
ClicData is a cloud-based data analytics and business intelligence platform that makes it simple for users to create, maintain, and automate data dashboards.
Users can gather data from different sources and visualize it using customized charts and widgets, thanks to over 250 data connectors. It has an intuitive interface that makes it usable by users of diverse degrees of technical expertise.
Highlights
Build custom dashboards with drag-and-drop templates and widgets that can be personalized and present fully branded dashboards for your business.
Automate data reporting and sharing with scheduled email reports and dashboard collaboration features for teams.
Monitor data with alerts and triggers that can be sent via email, SMS, or in-app notifications.
Team management features, including role-based access permissions, make it easy to share dashboards with teammates and clients while keeping data secure.
ClicData's API services and embedding capabilities enable companies to integrate the platform into their systems and applications, providing efficient data management and report generation.
250+ smart database and application integration features for enterprise-level use.
Pricing
| | | | | | | |
| --- | --- | --- | --- | --- | --- | --- |
| Plan | Connectors | User Access | Visualization | Storage | Monthly Price | Yearly Price |
| Personal | Flat files, social media, and web analytics | 5 | Unlimited dashboards | 5GB | $85 | $75 |
| Team | + API connector | 20 | + Geocoding | 10GB | $275 | $245 |
| Business | + Enterprise applications and Database connectors | 50 | + Insights + Reports | 15GB | 535 | $485 |
10. BrightLocal
BrightLocal is a local citation-based SEO solution which provides white-label dashboards. With this software, you can increase your brand visibility, get performance insights and manage your brand's reputation.
You can also track your keyword's ranking position in Google Maps, organic search, and mobile search results. Using this SEO data, you can make customizable white-label reports for your clients with their custom logo and brand colors.
Special Feature
An SEO-centric dashboard software that gives you the freedom to generate custom SEO reports for clients.
Highlights
Its White-label reporting tool has features that allow businesses to present data, analytics, and reports under their branding.
It has an exclusive authoritative local business citation feature to help businesses appear higher in search results.
Automated review response and reputation management tools allow businesses to monitor reviews and respond promptly.
Google My Business management helps businesses to be found in search results and ensures details are accurate.
Pricing
| | | | | | | |
| --- | --- | --- | --- | --- | --- | --- |
| Plan | Local SEO Tools | Reputation Manager | Listings Management | White-label | Monthly Price | Yearly Price |
| Single Business | Yes | Yes | Yes | No | $35 | $29.17 |
| Multi Business | Yes | Yes | Yes | Standard | $60 | $50 |
| SEO Pro | Yes | Yes | Yes | Full Access | $90 | $75 |
You can avail 2 months for free with their yearly plan.
Takeaways
Overall, white-label dashboard software is a great choice for companies that wish to provide their clients with a custom-branded view of all their data sources and analytics. It not only improves your company's visual appeal and branding, but it can also save critical resources and development time.
However, before selecting the best white-label dashboard software for your own company's domain, you must thoroughly assess your requirements in terms of functionality, quality, and price. With so many options on the market, it's always a good idea to work with a reliable source who can meet your individual needs while also providing the most value for money.