12 Best PPC Reporting Tools
The ability to accurately track, measure and analyze the performance of your pay-per-click (PPC) campaigns is essential to maximize their effectiveness.
Fortunately, sophisticated PPC reporting tools are now available that enable you to capture, visualize and report on detailed campaign results in an intuitive interface.
From campaign analysis software that lets you dive into detailed campaign metrics related to user engagement and cost control to AdWords diagnostic tools designed specifically with Google Ads users in mind — the following selection of the best PPC report tools provide invaluable insights on performance, which can be used for data-driven decision-making about future targets and goals.
If you're looking for the best PPC reporting tools to help you generate custom PPC marketing reports from all your marketing data and gain better insight into your campaigns' performance, this comprehensive list is for you.
Here we've outlined 12 of the top PPC reporting tools – all categorized by their main features, use cases, and platforms they support. These include free and paid solutions to meet your budget requirements while streamlining your reporting needs.
What is PPC Reporting?
PPC Reporting is the process of producing and analyzing reports to review performance metrics, set goals, and take action to optimize Paid Search campaigns to maximize Return on Investment (ROI).
Reports at all levels of granularity and complexity can be generated utilizing various reporting software, some of which are free for primary use. More specialized, feature-rich PPC reporting tools can be utilized to gain an edge in the highly-competitive world of Pay Per Click (PPC) marketing.
These 12 best-paid and free PPC reporting tools offer valuable insight into key performance indicators such as cost per impression (CPM), Total Cost (TC), Conversion Cost (CC), and Click Through Rate (CTR). Data-driven impressions also unlock essential decision-making processes designed to help businesses optimize their online marketing investments in real-time.
Following consumer trends over time empowers marketers to adjust and pivot strategies quickly in response to targeting changes or budget constraints before competitors have a chance. Furthermore, these value-adding tools provide access to powerful insights on keyword rankings.
They can automatically track ROI with cost per click (CPC). With multiple subscription models available, marketers can choose the plans that best meet their needs while remaining within budget.
Benefits of Using a PPC Reporting Tool
PPC (pay-per-click) reporting provides a wealth of information that can be used to plan future campaigns and troubleshoot any existing marketing challenges. Knowing the full range of benefits offered by modern PPC reporting tools will help you make better decisions about where to allocate your marketing funds.
Using a PPC reporting software tool enables PPC marketers and marketing agencies working with multiple clients to:
● Monitor performance: Track impressions, clicks, costs, and conversions over time. Analyze real-time marketing analytics data and create reports to see what works best for your campaigns.
● Identify weaknesses: Uncover where your profits are coming from and what could be performing better so that you can react accordingly.
● Optimize keywords: Find out which keywords provide the most value, need more investment, and which ads should be dropped altogether.
● Research competitors' activities: Monitor competitor activity to stay ahead of the curve and adjust when needed to remain competitive.
● Improve Return on Investment (ROI): Find out which keywords have the highest ROI so that you know where best to invest your budget for maximum return.
● Track traffic sources: Know precisely how much traffic each keyword generates from different sources, such as organic or direct search traffic or social media sites like Facebook and Twitter.
● Analyze ad copy performance: Measure overall campaign success by tracking different ads for individual keyword terms, enabling you to create more effective campaigns in the future.
●   Measure ad spend vs engagement: Determine how much money is spent and how much revenue is made on each keyword/ad combination before making changes or further investments.
● Reach multiple geographical locations: Access segmented reporting based on location so that you can focus on specific regions where results are most potent – measure exposure across different geographical areas simultaneously.
● Automate manual tasks: Streamline the manual process of creating campaigns and collecting data with automated features such as auto-bidding strategies or bulk keyword uploads.
●   Generate impactful client reports very quickly: Create custom PPC reports easily with simple drag & drop action – perfect for clients who need information soon without waiting days for results!
What are the best PPC Reporting Tools?
PPC reporting is an essential part of any Pay-Per-Click (PPC) campaign. PPC Reporting software helps you track the performance of your campaigns and make informed decisions. To make things easier, there are several tools available that can help you quickly generate reports.
In this article, we will explore 12 of the best PPC reporting tools on the market and compare their key features. So let's get started.
1. Databox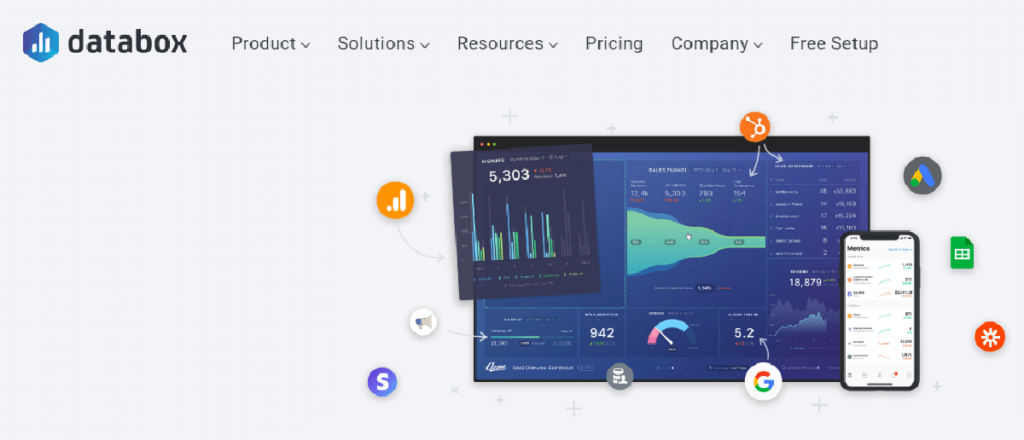 Databox is a powerful performance reporting and other data collection and aggregation tool that makes capturing, visualizing, and sharing data insights accessible. It is one of the leading pay-per-click (PPC) reporting tools that provide in-depth metric analysis across campaigns, keywords, and more.
Here is a quick overview of Databox as the best reporting tool:
Databox is an effective tool for tracking KPIs and displaying data.
Databox is simple to use and features an appealing user interface.
A wide variety of platform and tool integrations are available through Databox.
Databox delivers automated reporting and alerting options to help you keep on top of your metrics.
With the help of Databox's drag-and-drop dashboard builder, you can design unique visualizations of your data.
Databox has various features accessible at multiple affordable price points.
The customer service staff at Databox is helpful and quick to respond.
For anyone wishing to track and display their KPIs, Databox comes highly recommended.
Pricing
Databox offers three plans in their paid version
The Starter plan starts at $72/mo and gives you access to 12+ standard features, 4 data source connections, four databoards, five users and 11 months of historical data.
The Professional Plan starts at $135/mo and gives you access to their standard features and integration features, 3 data source connections, nine databoards, 25 users, and 24 months of historical data.
The Performer plan starts at $231/mo and gives you access to 3 data source connections, unlimited databoards, unlimited users, unlimited historical data, and advanced reporting capabilities.
Further, Databox charges per data connection, so pricing would vary based on the number of data connections you choose.
2. DashThis
DashThis is a marketing reporting and dashboard solution that consolidates marketing data from various sources with native integrations, allowing users to build dashboards for PPC, SEM, and SEO campaigns.
Key Features
Native Integrations: DashThis integrates seamlessly with popular PPC channels such as Google Ads, Bing Ads, Facebook, LinkedIn, Instagram, and Search Ads 360. It enables users to automatically pull data from multiple channels to measure their ROAS, the number of clicks, and overall campaign costs.
Customizable Dashboards: Users can fully customize their dashboards, including adding or removing widgets, customizing data visualization options, and adjusting the layout to meet their specific needs.
Automated Reporting: DashThis allows users to automate the reporting process by scheduling reports to be sent regularly to stakeholders or clients. This saves time and ensures everyone is updated with the latest performance metrics.
Advanced Data Visualization: DashThis provides advanced data visualization options, such as charts, graphs, and tables, to present data easily.
Collaborative Workflow: DashThis supports a collaborative workflow, enabling users to share dashboards and reports with team members or clients. This ensures everyone is working towards the same goals.
Historical Data Storage: DashThis stores historical data, allowing users to access past performance data and track trends over time. This helps to inform future campaign decisions and optimize ROI.
White-Label Option: DashThis offers a white-label option, allowing users to upload their logo, add a custom domain, and use custom color schemes. This is particularly beneficial for PPC agencies.
Pricing
DashThis offers four pricing plans: Starter, Professional, Business, and Custom. The Starter plan costs $33 per month, the Professional plan costs $109 per month, and the Business plan costs $209 per month. The Standard plan offers tailored pricing based on your specific needs. All plans come with a 15-day free trial.
3. Whatagraph
Whatagraph is a powerful marketing reporting and analytics tool that allows users to create comprehensive reports quickly and easily.
Key features
Some of the key features of Whatagraph include:
Pre-built report templates: Whatagraph comes with over 95 pre-built report templates for over 40 data sources. This makes it easy for users to create reports for different marketing channels, including PPC, SEO, social media, email marketing, and more.
Customizable widgets: Users can drag and drop widgets onto their reports, allowing them to create custom reports that suit their specific needs.
Automated data integration: Whatagraph integrates with various marketing channels and data sources to automatically collect and update data in real time, eliminating manual data entry.
White-label reporting: Whatagraph allows users to brand their reports with their logos and color schemes, making it easy to customize and share professional-looking reports with clients.
Data visualization: Whatagraph offers different visualization options for reports, including graphs, charts, and tables, to help users better understand and analyze their data.
Collaborative reporting: Users can collaborate with their team members and clients by sharing reports online, adding comments, and discussing insights.
Pricing
Whatagraph offers a range of pricing plans to suit different budgets and reporting needs. Here's a breakdown of their pricing plans:
Pro Plan: The Pro Plan costs $178 monthly (billed annually) and includes up to 20 data sources with five users.
Premium plan: The agency plan costs $268 per month (billed annually) and includes up to 10 users and 50 data sources.
Custom plan: The Custom plan supports 100+ data sources and includes unlimited reports and users.
Whatagraph also offers a 7-day free trial of their plans, allowing users to test the features before committing to a subscription.
4. Klipfolio
Klipfolio is a versatile reporting and dashboard solution that offers many features to help businesses track and analyze their marketing campaigns.
Key features
Pre-built visualizations: Klipfolio offers a library of pre-built visualizations, including charts, tables, gauges, and maps, that can be easily customized to fit your specific reporting needs.
Data source connectors: Klipfolio supports a variety of data sources, including all major PPC channels for search and social, as well as CRMs, analytics tools, and more. This makes consolidating data from different sources into a single dashboard easy.
Filtering and data manipulation: Klipfolio allows you to apply filters and data manipulations to your data, making it easier to handle and analyze. This can help you to narrow down the data you're looking for and improve the performance of your queries.
Custom metrics: With Klipfolio's PowerMetrics, you can use instant metrics provided by the tool or build your own metric values using a particular equation. This gives you greater flexibility in analyzing and reporting your data.
Client management: Klipfolio has a separate product, Klips, designed explicitly for client management. It allows you to transform complex file formats into accessible tabular data and automate client reports. Its white-label options enable you to customize everything from the product name to logos, leaving a professional impression on your clients.
Distribution options: Klipfolio offers a variety of distribution options, including view-only links, PDFs, scheduled emails, and Slack messages, making it easy to share your insights with clients and team members.
Pricing
Klipfolio offers four pricing plans: Free, Plus, Pro, and Business.
The Free Plan includes unlimited metrics and dashboards with a 4-hour data refresh interval.
The Plus plan starts at $99 per month (billed annually) or $139 per month (billed monthly) and provides access to additional features such as a one-hour data refresh and the ability to download PDF reports.
The Pro plan, which starts at $229 per month (billed annually), includes advanced features such as 15 min data refresh, eight editor users and eight data services.
The Business plan, which starts at $799 per month, is tailored to individual organizations' needs with personalized features such as flexible data services and editor users.
5. Google Analytics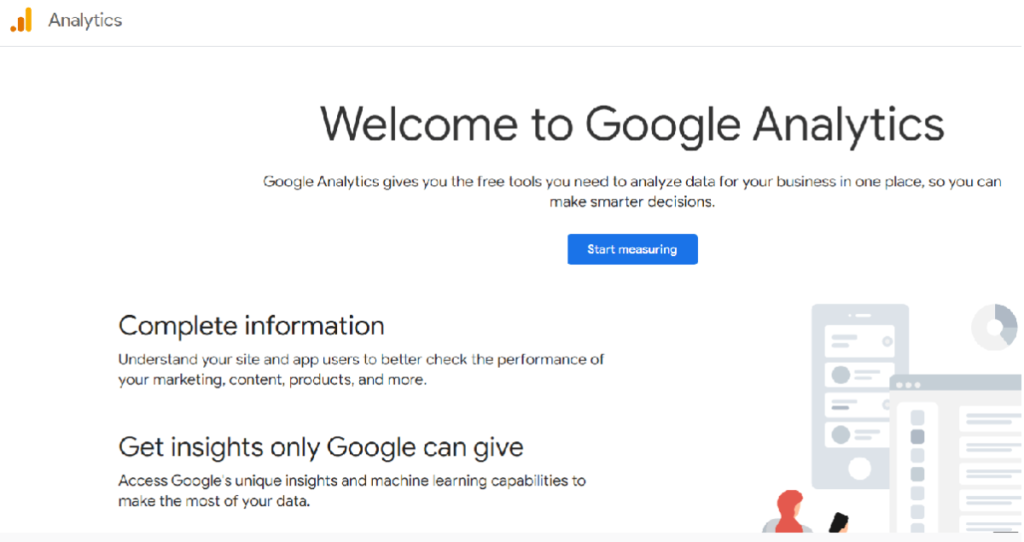 Google Analytics is a powerful web analytics tool that can provide valuable insights for PPC (pay-per-click) reporting. By combining the tracking capabilities of Google Analytics with the measurement features of PPC campaigns, businesses can understand how their paid advertising efforts are performing.
Key features
Real-time insights: Google Analytics provides real-time data about user behavior on your website, allowing you to see the immediate impact of your PPC campaigns.
Goal tracking: By setting up goals in Google Analytics, you can track the specific actions users take on your website after clicking on a PPC ad, such as form submissions or product purchases.
Time lag and path length reports: These reports show how long it takes for users to convert after clicking on a PPC ad, allowing you to optimize your campaigns accordingly.
Assisted conversions report: This report shows how each channel contributes to conversions on your website, allowing you to allocate your PPC budget more effectively.
Source/Medium report: This report provides a high-level view of how each marketing channel performs, enabling PPC specialists to identify which channels drive the most traffic and conversions.
Pricing
Google Analytics offers two pricing plans: Free and 360.
The Free Plan provides many features, such as conversion reporting, event tracking, customer reporting, site search tracking, custom reports, behaviour flow, and more. It is an excellent option for small to medium-sized businesses wanting to start with web analytics.
On the other hand, Google Analytics 360 is a premium version of the platform designed for enterprises and large businesses. It offers advanced options such as unsampled reports and BigQuery export, which can handle larger amounts of data. The pricing for Google Analytics 360 starts at $12,500 per month or $150,000 per year, making it a significant investment for businesses that require high-level data analysis and reporting capabilities. Overall, the choice between the two plans depends on the needs and budget of the business.
6. Google Data Studio
Google Data Studio provides a range of features, making it an excellent PPC reporting tool.
Key features
You can connect to various data sources like Google Ads, Google Analytics, and other marketing platforms, allowing you to integrate and visualize data from multiple sources.
The tool provides built-in data connectors for Google Ads that allow you to track your campaign's performance, including ad groups, keywords, and impressions. You can also set custom filters to narrow down the data you're interested in, like a specific date range, ad group or keyword.
Google Data Studio's interactive dashboards are easy to customize and can be branded with your company logo and colors. You can build custom charts, graphs, and tables and apply various formatting options to visualize your PPC data.
With Google Data Studio, you can create custom reports that meet your specific needs, and these reports can be scheduled to update with new data automatically. You can share your reports with your team members or clients, and they can interact with them, explore the data and even download it in various formats.
Pricing
Google Data Studio is free.
7. Acquisio
Acquisio is a comprehensive platform that provides a range of features to manage and optimize ad campaigns across multiple channels.
Key features
Campaign Management: Acquisio's platform makes setting up and launching new ad campaigns quickly across different channels, including Google AdWords and Bing Ads. Its robust machine learning and AI algorithms assist you in creating campaigns that align with your goals.
Cross-Channel Ad Tools: Acquisio offers cross-channel ad tools that allow you to manage your campaigns across different channels effectively. You can track your campaigns' performance, optimize ad spending, and get real-time insights.
Automated Optimization: Acquisio's platform includes automated optimization tools that use machine learning algorithms to enhance the performance of your campaigns, bring more leads and conversions, and achieve better results. You can set specific goals, and the platform will automatically optimize your campaigns to meet them.
Sales Tools: Acquisio provides multiple sales tools that help you accurately predict the outcome of your ad campaigns. These tools allow you to exclude low-performing ads initially, preventing wasted ad spend.
Reporting Tools: Acquisio offers various reporting tools, including omnichannel reporting, report scheduler, and report templates. These tools help you generate exhaustive reports encompassing all the critical aspects of your PPC campaigns, providing a clear view of your campaigns' performance.
Customizable Campaigns: Acquisio offers predefined campaigns that can be customized to align with your goals. You can choose from various campaign types, including lead generation, e-commerce, and phone call campaigns, and customize them to suit your needs.
Pricing
Contact their support team directly to obtain Acquisio's services and pricing information. They will provide a customized offer based on your business requirements and advertising budget.
8. Opteo
Opteo is a data-driven Google Ads campaign management and optimization tool that helps businesses improve the effectiveness of their PPC efforts.
Key features
User-friendly ad writing tool: Opteo allows businesses to split-test their ad creative and generate new text advertisements to enhance performance.
Continual evaluation of ad performance: Opteo evaluates the performance of ads on an ongoing basis and provides data-driven recommendations to remove or replace underperforming ads.
Data integration with Google Analytics: By connecting Opteo with Google Analytics, businesses can gain insights into their ad performance regarding overall website traffic. Opteo's Google Ads reports provide key metrics on the campaign, ad group, and keyword performance.
Timely improvement alerts: Opteo sends alerts with suggestions for improving keyword management, ad writing, and other aspects of campaign optimization.
Ad extension prompts: Opteo alerts users to missing ad extensions and recommends ways to improve conversion rates.
Error scanning: Opteo scans ads for errors, spelling mistakes, keyword conflicts, and other issues to ensure ad copy is error-free.
Pricing
Opteo offers four subscription plans:
Basic Plan – $99/month.
Professional – $199/month.
Agency – $399/month.
Enterprise – $799/month.
9. Swydo
Swydo is a marketing analytics and automation solution designed to create powerful PPC reports and dashboards for digital marketers.
Key features
It provides a user-friendly interface to create PPC reports for Facebook, LinkedIn, Google, Twitter, and AdWords campaigns and even offers Google Sheets integration to incorporate third-party data.
Swydo primarily targets agencies but also provides tools to help manage PPC reporting for multiple clients. With Swydo, you can set targets and monitor how your PPC campaigns perform against them, customize the branding with white-label options, create reports in different languages, and use dynamic report templates to set up all your clients quickly.
Swydo offers integrations with major advertising platforms like Google Ads, Microsoft Ads, AdRoll, and most social media advertising platforms, making it easy to track all your PPC campaigns in one place. However, it is essential to note that Swydo's integrations are more limited than some of the other tools on this list.
Swydo's reporting and monitoring tools allow you to quickly bring all your marketing data together to create powerful reports customized to meet your client's needs. Once a report is set up, you can automatically schedule and send it out as frequently as desired. However, it should be noted that Swydo's sharing options are limited, as you can only share dashboards as PDFs or online HTML reports.
Pricing
Swydo has a transparent pricing structure, starting at $39 per month, which includes 10 data source integrations and unlimited users, dashboards, and reports. Swydo's pricing plans increase based on the number of data source integrations, with the most expensive Plan offering up to 150 integrations. The tool also offers a free trial period for interested users to test its features and functionalities.
10. ReportGarden
ReportGarden is a versatile platform offering various features to help monitor and optimize PPC campaigns. Its reporting and budgeting tools allow users to track ad spending and monitor campaign performance.
Key features
The user interface is clean and straightforward, making it easy to set up reports and dashboards quickly. Additionally, custom calculations allow users to create custom metrics to analyze data and align reporting to clients' specific measures.
Alongside PPC reporting, ReportGarden also provides SEO tools, such as site audits and keyword trackers. The tool is also popular among agencies for creating client proposals and showcasing campaign successes.
ReportGarden's white-labeling options benefit agencies, allowing them to add their clients' logos and create custom cover pages for reports. Customizable report colors also allow users to keep reports on brand.
Additionally, with Report Garden, you can easily schedule reports on a weekly or monthly basis, making it easy to keep your clients updated with the latest performance metrics. Whether you want to send out reports once every two weeks or monthly, you can quickly update the schedule and let the tool send the reports to your client.
Pricing
ReportGarden offers a range of pricing plans to suit different business needs.
The Basic Plan starts at $89 per month, allowing you to create up to 10 Accounts and Dashboards.
The Standard Plan costs $149 per month and supports 30 Accounts, and Dashboards include integration with Facebook Ads.
The Professional Plan, priced at $299 per month, allows for up to 70 Accounts and Dashboards.
For larger agencies, the Agency plan starts at $649 per month and offers 170 dashboards and users and support for additional platforms.
11. Agency Analytics
Agency Analytics is an all-in-one PPC reporting solution that offers a comprehensive suite of features to help PPC managers and agencies streamline their reporting process.
Key features
The platform integrates with over 60 channels, including popular PPC channels like Google Ads, Facebook Ads, and Twitter Ads, providing in-depth insights into PPC campaigns' performance across multiple channels.
One of the key features of Agency Analytics is its automated client reporting, which allows agencies to generate data-driven reports for their clients based on daily, weekly, and monthly data.
Agency Analytics also offers a customizable dashboard and drag-and-drop report builder, enabling PPC managers and agencies to create bespoke reports that suit their client's needs.
Additionally, the platform can track SEO and PPC metrics, providing a holistic view of a client's online presence.
With dozens of report templates, generating visually appealing and informative reports is a breeze.
Pricing
Agency Analytics offers three plans – Freelancer, Agency, and Enterprise – to suit different business needs and budgets.
The Freelancer plan is affordable for individuals or small businesses, starting at $10 per month (billed annually) or $12 per month (billed monthly).
The Agency plan is ideal for medium-sized businesses and agencies, priced at $18 per month (billed annually) or $15 per month (billed monthly).
The Enterprise plan is designed for larger businesses with more advanced reporting needs.
All plans come with unlimited reports and access to over 75 integrations, making tracking and analyzing PPC campaigns across multiple channels easy.
12. TapClicks
TapClicks is a comprehensive cloud-based PPC reporting tool that helps digital marketers streamline their PPC campaigns and generate insightful reports. It offers a range of PPC reporting features that help marketers monitor, analyze and optimize their PPC campaigns.
Key features
Hassle-free Integration with Multiple Ad Networks: TapClicks offers hassle-free integration with multiple ad networks, including Facebook Ads, Google Ads, Bing, etc. This makes it easy to manage campaigns across multiple channels and get a comprehensive view of campaign performance.
Customizable Templates: The platform offers customizable templates that can be used to generate reports manually or on predetermined schedules. This makes it easy to share campaign data with clients or stakeholders.
Predictive Analytics: TapClicks provides predictive analytics and insights that allow users to understand better how to optimize their campaigns for better performance.
HTML5 Graphs: The platform features browser-agnostic HTML5 graphs that work across any device or platform, ensuring users can access their data and reports anywhere.
Real-time Collaboration: TapClicks offers real-time collaboration features that allow users to share data between departments and gain an at-a-glance overview of campaign performance. This makes it easy for teams to work together to optimize campaigns and maximize the return on their PPC investments.
Comprehensive Data API: TapClicks features a comprehensive data API that allows businesses to import data from their preferred channels and manage it through a single dashboard. This makes it easy to keep track of campaign performance and optimize campaigns for better results.
Seamless Integration with Google Sheets: TapClicks seamlessly integrates with Google Sheets, allowing businesses to effectively manage ad data and ensure easy availability for reference, monitoring, or optimization purposes. This makes collaborating with team members and stakeholders and sharing campaign data easy.
Seamless Importing of Data into Google Studio: With TapClicks, businesses can easily import data from multiple ad networks into Google Studio. This makes creating custom reports and analyzing campaign performance data in a single location easy.
Pricing
Here are the pricing options for TapClicks:
Free Plan
Basic Plan: Starting at $149 per month
Pro Plan: Starting at $399 per month
Enterprise Plan: Custom plan, pricing undisclosed
Conclusion
After exploring the key features, capabilities, and costs of some of the best PPC reporting platforms and software available, it is clear why they are such valuable resources for businesses seeking insights into their data.
Using a good PPC reporting tool from these handpicked tools, you can generate comprehensive PPC reports based on real-time PPC data and optimize your PPC strategy and performance. With proper tracking tools such as these, you can ensure that your ads reach the right people and generate the most results for your ad spend and PPC efforts.
If you want to improve your online marketing strategies, consider investing in a PPC reporting tool. They can make a huge difference in your success rate and profitability.